NS May 11th, 2010
If you haven't already heard, the Tories are in. David Cameron managed to convince Nick Clegg and the Liberal Democrats to sell their souls to the devil and form a coalition with the Conservatives.
I think we all know how I feel about that.
I made an offhand comment on Twitter tonight, in which I said, "Making a t-shirt: I voted Lib Dem and all I got was this lousy Tory government." People seemed to like this idea so I thought hell, I'll actually make a t-shirt. With Noble Husband's graphic design skills, we put a little something together for all of the other Lib Dem voters who feel betrayed and disappointed with this new 'coalition' government.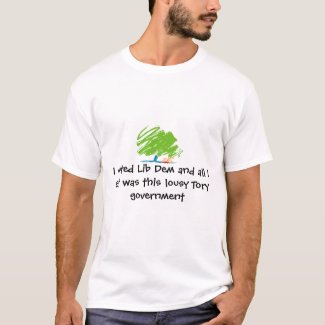 I voted Lib Dem
by
noble_savage
Create customized tee shirts
using zazzle
Get yours here and wear it proudly angrily. And don't say I never made you anything.